Kočovce

Village Kočovce is situated in the nice surroundings of mountain ranges Považský Inovec, near the motorway (and highway) in-between the famous spa Piešťany and town Trenčín with a wonderful castle. You can reach Kočovce from Nové Mesto nad Váhom in the direction to village Kálnica, in the crossing Rakoľuby you have to turn right (see the map).
The manor-house in Kočovce is the educational and conference centre of the Civil Engineering Faculty of Slovak University of Technology in Bratislava.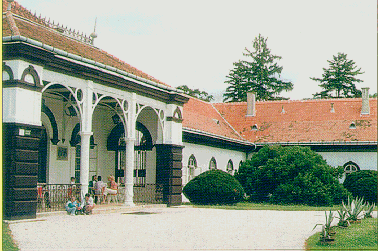 Baroque manor-house was built in 1730 by the local county vice-head Juraj Prílesný.
In 1883 it was re-built in the romantic style architecture. The big u-shaped building was surrounded by a nice park with lot of domestic and exotic trees, flower beds and grass loans. In the courtyards, a horse farm with stable, horse-riding circle and training area is located.
In 1967 all the aerial was re-cultivated by the Civil Engineering Faculty of STU and from then it is used as a nice place for organizing conferences, meetings of university leadership and for recreational purposes of the university academic staff.
Guests can enjoy horse-riding, play tennis on the court in the yard, play table-tennis, or make a bicycle tour to the countryside. The nearby ruins of castle Beckov can be visited. In the cold weather, you can watch TV sitting inside and warming yourself at the open fire in the fireplace, or visit a small bar with choice of drinks, beers and good local vines.